Coronavirus Update
With the developments regarding the spread of coronavirus Tibbs Dementia Foundation has radically transformed it's support and service provision. Our usual schedule of services, groups and activities are suspended until further notice and we have implemented our new service provision as outlined on our Service Timetable page.  Please check with the guidance on this website as we may need to make further changes. This will be a challenging time for us all but we can keep connected and continue to support each other retaining the strong sense of community that defines Tibbs Dementia Foundation.  Please refer to NHS 111 online if you are worried about symptoms or need further advice.
The Bedfordshire Coronavirus Emergency Fund is fundraising to support local charities like ours across the county to enable them to continue helping the most vulnerable. Our thanks go to all parties involved for recognising the work of Tibbs Dementia Foundation and awarding us an emergency grant to provide a telephone support service for up to 200 families helping both the carer and person living with dementia through regular telephone calls to help them feel connected. This grant has enabled us to adapt our service provision so we can continue to do this and to retain the sense of community that is so important to us all at Tibbs Dementia Foundation. #TogetherWeAreStronger. @bedlutcf @connollyfoundation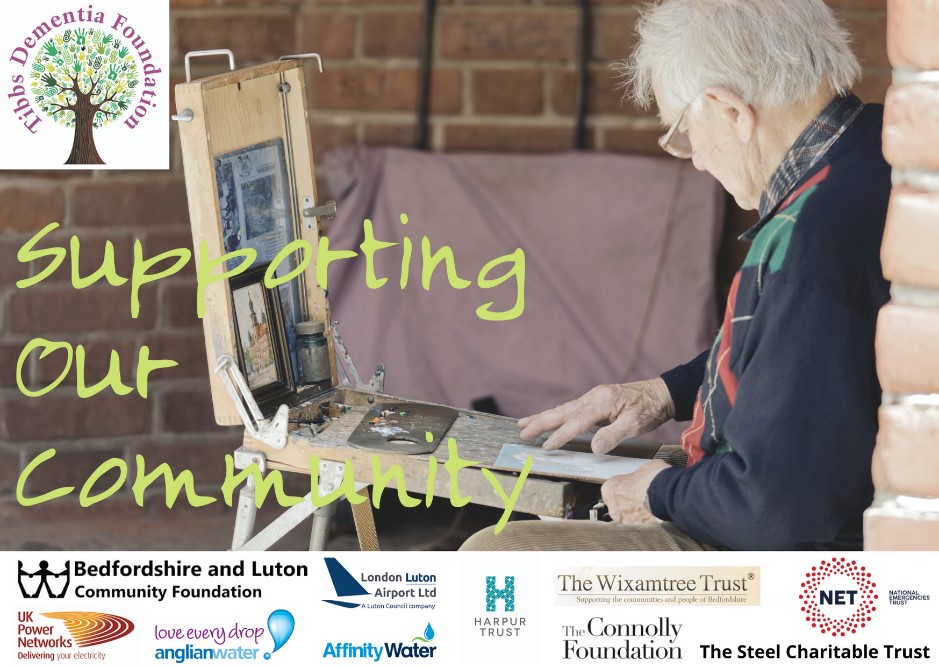 Tibbs helps me be myself for as long as possible
As a community we support each other to achieve this goal, whether we are a person with dementia, a family supporter, volunteer or dementia practitioner. We acknowledge and value the unique skills and life experience of everyone. Tibbs has become a life style for many people offering a wide range of regular opportunities to meet others while engaging in a variety of cognitively and physically stimulating group activities. Our disability model focuses on what people can do, supporting them to find their voice through a range of activities.
With very grateful thanks to the Supporters of our Services