Support through Coronavirus
Throughout the pandemic Tibbs Dementia Foundation radically transformed its support and service provision to continue to provide a wide range of accessible and relevant services and activities for people affected by dementia and their families. As restrictions slowly begin to lift we look forward to embracing a new hybrid style of working combining the face to face services and activities that are valued by so many with the digital learning and new skills we've all learnt through lockdown so that we can reach and support more people in ever more accessible and meaningful ways. Over the coming week and months we will establish a new timetable which we hope will enable all to feel connected and supported as part of our valuing and dynamic community. Our current zoom services are outlined on our Service Timetable page.
Over the last year we have received a great deal of support enabling us to continue to deliver our valued work. We are grateful for the following funding:
BEDFORDSHIRE CORONOVIRUS EMERGENCY RESPONSE FUND managed by Bedfordshire and Luton Community Fund (BLCF)
Anglian Water Positive Difference Fund
NET Coronavirus Programme (Department for Digital, Culture, Media and Sport)
Independent Age
Harpur Trust
The COOP
Gale Family Trust
As we look to the future we remain grateful for ongoing funding from:
Harpur Trust
Sport England
Dementia Hidden Art, 15th- 24th July, St Paul's Church, Bedford
Phill Watmough (Dementia Artist) is a valued member of the Tibbs Dementia community. We have the exciting opportunity to support him to exhibit his work in the beautiful surroundings of St Paul's Church in Bedford from 15th – 24th July. Phill's abstract work is vibrant, colourful and full of energy and optimism and we hope that this will shine through as he exhibits over 100 of his favourite pieces. We'll also be displaying work from other members of the Tibbs community and work created at our art and craft group.
For many people a diagnosis of dementia will be perceived as a series of losses and perhaps a retreat into the self. At Tibbs Dementia Foundation we have experienced that through the creative arts many can find a new means of expression, an opportunity to learn and enjoy new skills and talents and to have opportunities to remain engaged and active citizens with a great deal to offer and contribute. We hope that this exhibition will reflect this as we celebrate the contributions and creativity of our dementia community.
The free exhibition entitled 'Dementia Hidden Art' will be open daily from 11am- 3pm from Friday 15th- 24th July at St Paul's Church, St Paul's Square, Bedford MK40 1SQ
The exhibition opens with a special concert on Friday 15th from 2pm- 4pm featuring Tibbs Dementia Foundation's Music 4 Memory, when we will join together connecting through music, song and dance before informally viewing the exhibition. Please join us to help celebrate and enjoy the unique and creative contributions from across the Tibbs community, to meet Phill and others who have contributed and to experience the vibrancy, joy and energy that we experience as a creative community.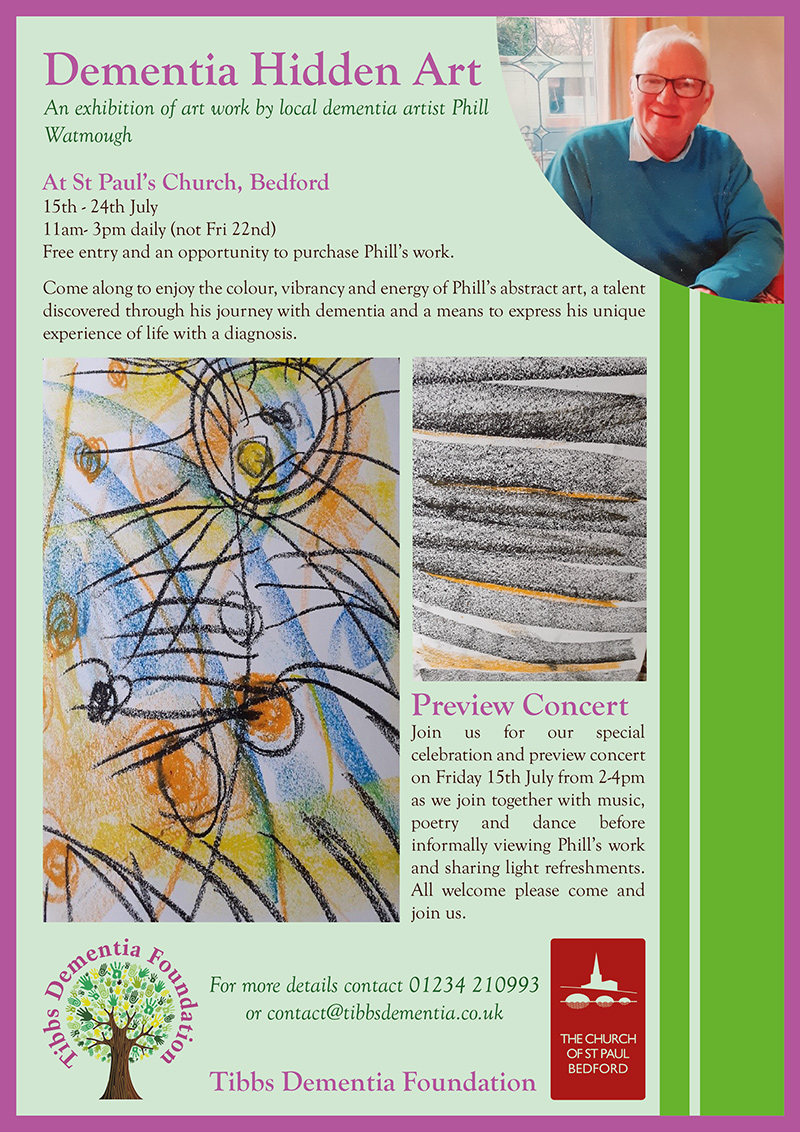 With very grateful thanks to the Supporters of our Services


Tibbs helps me be myself for as long as possible
As a community we support each other to achieve this goal, whether we are a person with dementia, a family supporter, volunteer or dementia practitioner. We acknowledge and value the unique skills and life experience of everyone. Tibbs has become a life style for many people offering a wide range of regular opportunities to meet others while engaging in a variety of cognitively and physically stimulating group activities. Our disability model focuses on what people can do, supporting them to find their voice through a range of activities.
With very grateful thanks to the Supporters of our Services